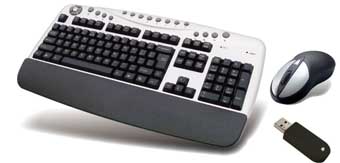 Wireless Keyboard & Rechargeable Mouse Combo Series
CAN-5000W

2.4GHz RF Wireless Solution.
One Touch Instant Control: 20 Multimedia, Internet, and Application hotkeys.

Regular or Slim Keystrokes are both Available.

Optical Mouse / 800 DPI, Comes with a Charging Cable.

Comes with "BACK" Function for File Explorer and Internet Browser.

USB Compatible.
SPECIFICATION :

Single Channel with 256 ID codes reduce interference amount device
Keyboard/ Mouse Operation distance : 2m
Resolution : Ball mouse 400 DPI, optical mouse 800 DPI
Mouse Key : 3
Keyboard Battery : 3 AA
Mouse Battery : Rechargeable battery 2 AAA
Interface : PS/2
Operating Current (moving mode) : 23.4mA
Operating Current (standby mode) : 16.5mA
Operating Current (sleep mode) : 0.44mA

SYSTEM REQUIRMENT :

IBM-PC with Pentium 133 MHz processor or higher
Microsoft Windows XP/Me/ 2000/98
Two available PS/2 ports (one for keyboard, the other for mouse)

• • •